Doctor Proctor's Fart Powder is a movie adaptation based on the book of the same name, by Jo Nesbo. The plot is similar to that of the first book, seeing Proctor, Nilly and Lisa creating the infamous "fartonaut powder" and this helps Doctor Proctor gain some fame. 
The film was first released in Norway on the 14th March 2014 with Kristoffer Joner as Doctor Proctor, Emily Glaister as Lise/Lisa and Eilif Hellun Noraker as Bulle/Nilly.
It was said to have a dubbed theatrical release in cinemas within the UK, on the 31st July 2015; in the USA on the 11th October 2014. However, though trailers and movie posters have surfaced online (with the book covers being redesigned to match the movie posters) - the move hasn't been in UK cinemas.
The movie is named "Doctor Proktor's Prompepulver" in Norway.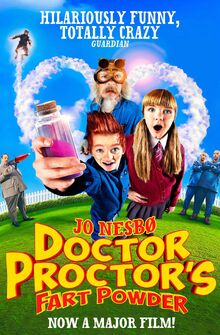 Ad blocker interference detected!
Wikia is a free-to-use site that makes money from advertising. We have a modified experience for viewers using ad blockers

Wikia is not accessible if you've made further modifications. Remove the custom ad blocker rule(s) and the page will load as expected.